"When Angela informed me that she could offer a Foot Whispering online along with a Foot Art Reading, I was intrigued.
She asked me to lie in front of a mirror at home and take a photo of each foot and and then stand on a sheet of paper and sketch the outline of each foot.
Then I had to draw pictures within the foot outline of anything that came into my head and use any colours I wanted within a period of time.This worried me as I am useless at drawing. Art is certainly not one of my best skills.
I did produce something which to me was a heap of rubbish and wondered how on earth she would make any sense out of it.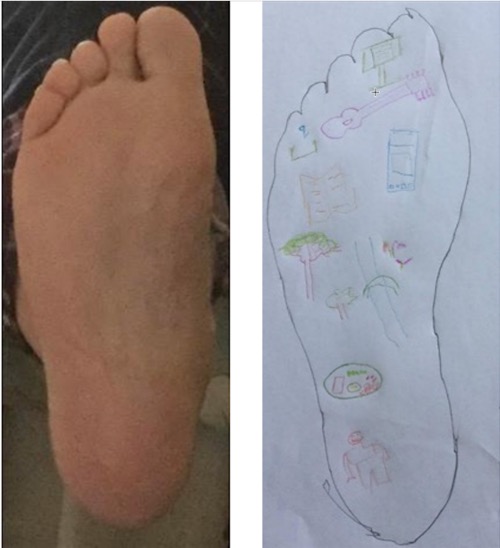 A Zoom session was booked  for a couple of days later to give Angela time to study what I sent her,
Angela spent over an hour talking to me and I was blown away by what she told me about myself and things to watch out for in the future.
She even had messages for me from a brother-in-law from Australia who passed away recently but visited our house in Scotland about 3 years ago. She mentioned things that Charlie had said to us that she couldn't possibly have known and that was intriguing.
She was extremely easy to listen to and to talk to.
I was not in any pain at any time but I could clearly see how Angela could put people at ease and pinpoint the reasons for pain and offer a helpful solution.
A fascinating experience and definitely worth a try if you want to know more about yourself or get rid of pain or anxiety.
Author: George McGillivray